How to live stream a funeral
What do you do when a loved one dies and a close and important family member cannot attend the funeral? Learn how to setup live stream for funerals in this step-by-step guide. You'll need:
An iPhone, an iPad or an Android phone or tablet.
EventLive App downloaded from the Play Store or App Store
A tripod (optional)
1. Download the App and Create an Account
2. Run a Free Stream Test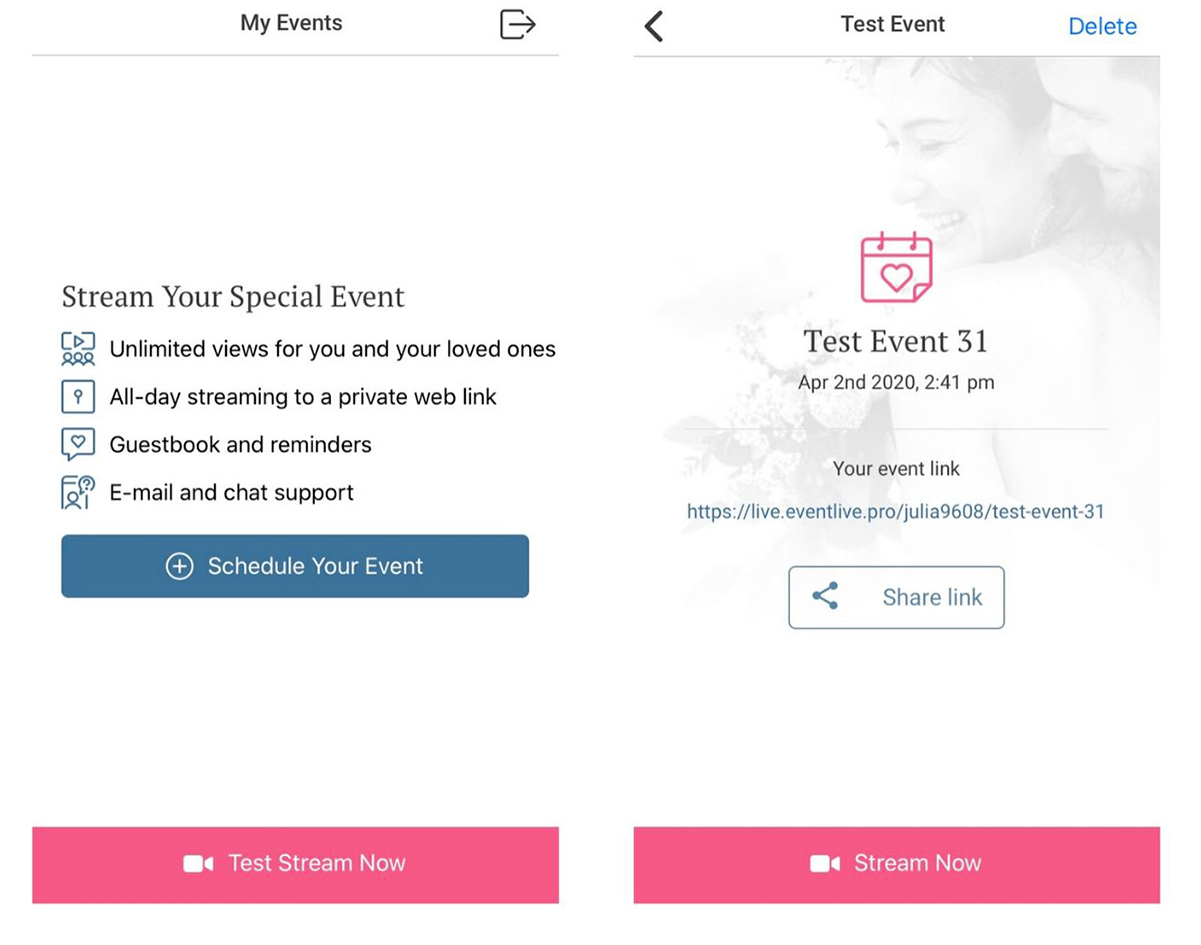 3. Create a Special Event in the App
Tap "New Special Event"
Name your event (e.g. "Mary Smith Celebration of Life")
Select your venue (start entering city, or venue name and select from the list)
Set the event's date and local time. 
4. Invite the Guests (Share the Link)
Now that your event link is created, share it using the "Share Link" button. Choose the way you want to share:
Send by Email
Direct message
Post your link on social media
Add it to obituary listing or tribute website (embed code available)
Share the link with as many people as you like when you choose the CLASSIC option.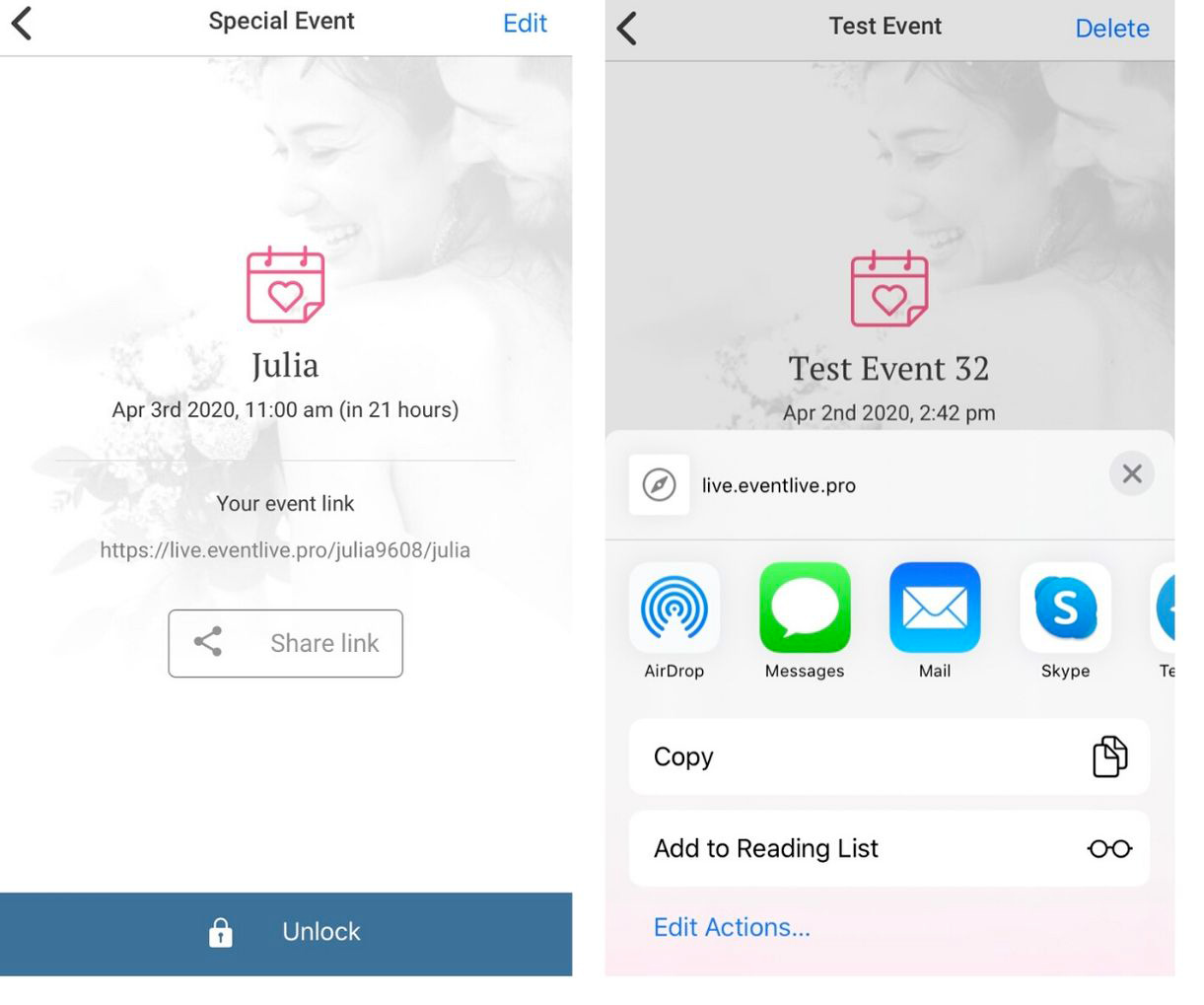 Live Stream Viewer Experience
The Link Privacy
Anyone with the link immediately has access to the funeral live stream. It doesn't require them to enter a password or create an account. The private links are not appearing in Google Search results. Please note that the people who you're sharing the link with can share it with someone else.
Viewer Experience 
When your guests visit the link they see the date and time of the event, based on their time zones. They can click "Get reminders" button and leave their email address to opt-in for reminders. They can also leave messages in your event's guestbook.
Guest Notifications
If your guests signed up for the reminders, they will be notified a day before the start time, an hour before, 15 minutes before and as soon as the event starts. If you re-start the stream during the day they will receive a notification that you've started streaming again. This is handy if you want to stop broadcast after the ceremony and restart for speeches or the first dance.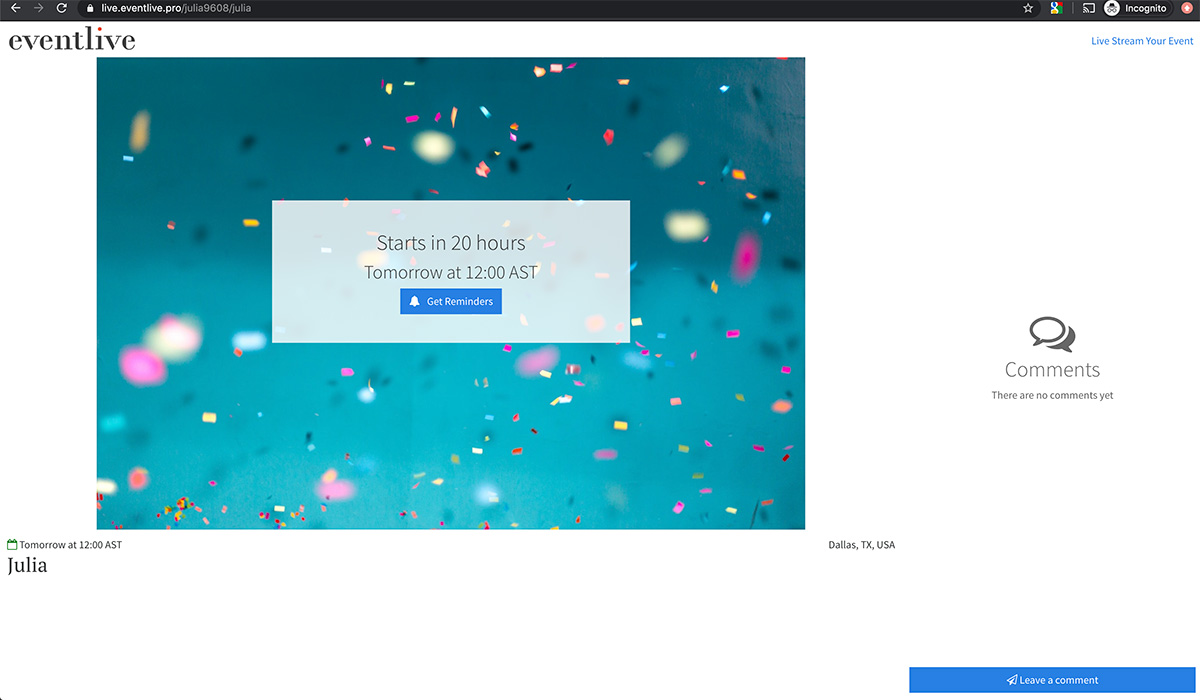 How to Setup Live Streaming with a Tripod
When streaming from the phone or a tablet, it's best to use a small tripod to avoid the camera shake and so you don't have to hold the phone for prolonged periods of time.  
Before the Funeral Starts
Charge your phone and make sure you are connected to the network that you would like to use for streaming. Make sure your phone's camera is clean.
Live Streaming Coverage
Start the streaming 10 - 15 minutes before the funeral start, to give everyone a chance to join. Keep it going after, or turn off the stream and restart later.
Day After
Check your streaming web link to see comments and condolences from the guests. The video will stay online for a year with our CLASSIC package. When you purchase our CLASSIC option you will also receive a Downloadable link with your stream video via e-mail within 24-48 after the end of the event.
All EventLive features
Private Link
Setup and share the link ahead of event
Unlimited viewers (Classic package)
Unlimited reminders
Video is saved online for 1 year (Classic package)
High-resolution streaming
All-day streaming (Classic package)
No ads